Language Services Marketing Academy for translators and interpreters – three months in
September 30, 2019
2020-11-13 12:39
Language Services Marketing Academy for translators and interpreters – three months in
Language Services Marketing Academy for translators and interpreters – three months in
It's been almost three months from the launch of our new project – Language Services Marketing Academy! I can't believe it – time flies!
The last three months were probably also one of the busiest in the WFT & Academy world. What's most important is that it's a feeling of "good busy" – proactive, productive busy, sparking a lot of positive vibes in the form of website launches, marketing wins for our clients, new creative designs, new modules, tutorial videos, member feedback and more. 
In this post I wanted to give you a quick look into what's in the Academy so far, so that if this is the information you are looking for, you can choose to join us for as long as you like, and work through the materials provided, get personalised feedback on some of the worksheets and assignments, and boost your marketing efforts when you need it. 
We now have 7 full-length modules (or as I like to call them: bundles) in the Academy, consisting of videos, additional reading and links and of course, worksheets and templates for you to work on your business from research through planning, to implementation. New bundle coming up in October!
Here's what you can achieve so far:
Our Recommended Roadmap guides you through the modules and provides suggestions on what to tackle next to achieve best results.
By working through the modules you will:
Get to know your business better, spend some private time with your business and assess your situation

Find out who your ideal clients are and how to define your ideal client avatar

Get tips on how to handle multiple client avatars and why is it important to have them

Define business goals – long term vision and short term goals

Look at your profits, marketing, skills and set your expectations against your goals

Learn to use funnel concepts based on buyer behaviour theories

Decide on your online profiles strategy

Create your tagline and mission statement, USP and marketing pitches
And much more!
What's important to keep in mind is that I created the Academy as a supportive learning environment, and you can also get personalised, private feedback on:
your LinkedIn profile

the whole of your Branding Worksheet (USP, mission, taglines, pitches)

the overall of your very own marketing plan

and more!
As well as support through forum and email!
Extra Content
Apart from regular, monthly bundles, you can also learn to use marketing tools for planning, social media management, graphic design, WordPress, feedback forms and more.
Plus you'll get monthly Q & A session recordings straight to your inbox and extra quick win worksheets and videos!
First Member Feedback
It's been a huge leap for me to release this on-demand video training – something I haven't done before – to a wider audience instead of regular one-to-one coaching or event presentation format.
I feel very grateful to receive those reviews!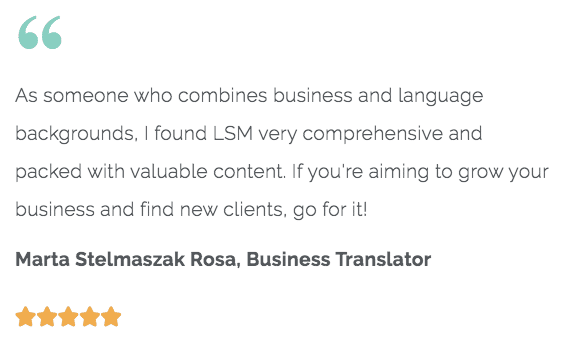 Coming Up Next
It's super exciting to be able to share all of this material with you and I can't wait to share more! I love creating content, videos, worksheets and knowing that it helps you run your business is the best motivation.
The upcoming modules will focus on:
Buyer behaviour, customer service & customer WOW

Website design

Social media accounts roundup

Your visual identity
And these are just some of the next bundles to arrive. I have a calendar full of topics for 2020. If only a day had 48 hours! 
Member Perks & Expert Advice
As we're still young (and fresh!) I'm building up the member perks section for you month by month, to offer you deals and discounts that will be beneficial for your business.
Apart from that, we're now forging collaborations with translation & interpreting industry experts, including translation clients, to give you more focused advice to spark new ideas for managing and marketing your translation business.
Want to Take a Look Inside?
Watch the video:
And the most recent news…
Meet us at the ATA Conference
We'll be available to chat at the ATA 60 conference in Palm Springs, California!
Join us at our stand 66, special stand for Websites for Translators and Language Services Marketing Academy project, let's grab a coffee and cake together, exchange business cards and marketing ideas! We'll be there for the full 3 days and we're excited to meet you!
If you're also at the ATA look out for freebies, draws, and special promo offers for conference attendees only 🙂
And as always – any questions – just let me know! 
Email me at meg@languageservicesmarketing.com for anything website or marketing or business-related. I'm always happy to help and to hear from you. 
Most importantly, whatever you're doing right now:
Have a great day! ☀️