[VIDEO] Let's talk about websites! 5 common mistakes and 5 must-haves for maximum translation website effectiveness
July 3, 2020
2020-11-13 12:23
[VIDEO] Let's talk about websites! 5 common mistakes and 5 must-haves for maximum translation website effectiveness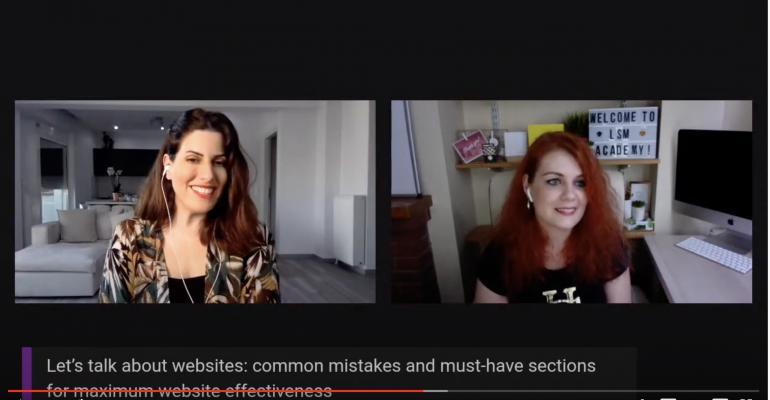 [VIDEO] Let's talk about websites! 5 common mistakes and 5 must-haves for maximum translation website effectiveness
Last week I participated in Virginia Katsimipiri's video podcast to chat about websites and website design for #translators. 😄
(scroll down to watch it below!)
And I must admit, this was the first live video interview I've ever done. Sure, I've presented at conferences, I've recorded hundreds of minutes of video for LSM Academy by now, but for some reason going live on a video was super scary for me.
But you know what? I really enjoyed it! 😁
I'm no TV presenter so please don't expect miracles 😆, but the whole experience was much less stressful than I imagined, I managed to say most of what I wanted to share and even more, and we had some lovely people watching us and asking questions so it was interactive which also made it fun.
Now I know how it works, how it feels, how to prepare, and I'm looking forward to doing it again! 🙌  Thank you Virginia for your invitation and for being a lovely host!
#getoutofyourcomfortzone
What we covered:
✅ 5 most common mistakes people make when getting a new translation/interpreting website and how to avoid them
ONE: Not knowing your target audience before starting the design of your website
In order for your translation or interpreting website to appeal to your desired clients, you need to find out whom you're targetting, create client avatars and research your target market. Find out as much as possible about them! By doing this, you will be able to align your design, texts, imagery and even branding and make them appealing to your potential clients to create rapport much quicker.
TWO: Skipping the homepage
Your website homepage is your shop window, your digital front office, and the page where most of your visitors will land on, so make the most of it!
THREE: Writing essays for the website
Only about 16 – 28% of people actually read websites (research varies), the rest will just scan it! So make sure you're using smaller chunks of text, divide your content into smaller sections, make the important information stand out, and use headings, bullet points, and other graphic elements to draw attention to different sections.
FOUR: Not thinking about SEO when building and writing the website (but wanting to rank high in Google right from the launch)
For maximum effectiveness, you can involve keyword research already when researching your audience, include keywords in your SEO-optimised website texts, optimise headings and meta titles, alt tags and meta descriptions before you launch the website.
It will also not rank right away (and not for many keywords) as it can take up to a few weeks for Google to index a new website! And much longer for it to gain better ranking. You will still need to add relevant, engaging content to the website with carefully crafted content strategy, additional subpages and landing pages.
FIVE: Not having a strategy for website launch and post-launch and forgetting about it for the next 6 months (but expecting it to bring results)
When you release a new website, firstly, it's still not well ranked by Google, and secondly, it's not linked to the rest of the web, so you need to ensure that you're doing everything you can to bring people to your website at the very beginning.
A new website is also a great opportunity to reconnect with your past clients, current clients, and potential clients that you would like to work with, so you can approach them with some tailored messaging, engage in email campaigns, content marketing, and do more of a "pull" marketing to generate interest and traffic. Your website (and business) will thank you! 
✅ 5 must-haves and recommendations for maximum website effectiveness
ONE: Include must-have structure:
Core recommended pages:
Home | About | Services | Contact – people expect to find those pages and quickly find the most important information there.
Recommended structure:
Consider adding: Pricing | FAQ | Specialisations | Blog
You could also consider separate pages for separate services (more SEO benefit for each service and you're making it more focused for the client) and separate specialisation pages or landing pages (longer subpages, often devoted to one side of the business only).
By adding those extra pages, you can anticipate and solve client's problems, show them you care and differentiate your business from others. They also add to your SEO and can enhance the customer experience when crafted with care.
TWO: Include a few options for contacting you on the website
By doing this, you facilitate communication with different types of clients, but you're also prepared for different scenarios. Technology can be tricky – so if your contact form fails, your clients will have an email address they can use or a Whatsapp number they can send you a quick message to. You can also use chat boxes such ad Drift of Facebook Messenger and have an app on your phone where you can answer in real-time.
THREE: Make your language pairs clearly visible across your website
By doing this you increase the chances of getting relevant enquiries faster and increase SEO effectiveness but also general user experience. Clients will not be willing to dig deep to find out the most basic information about our business, so it's best to make it clear right from the start.
FOUR: Put the customer at the centre of your marketing copy
Customer experience is one of the biggest differentiators in marketing your business right now, so you want to make your clients feel special! Content that is client-focused will appeal to them much quicker than just a simple description of what you do and who you are. Remember that every one of us appreciates the personal, carefully crafted approach and the feeling of being valued.
FIVE: Have a website launch and post-launch strategy
Don't let it just sit there and get forgotten! Check out this post about Life After Launch!
We have also covered plenty of additional tips and tricks along the way. It's crazy when you think about how much you can fit in into an hour of video! 
You can watch it here:
Let me know what you think! 🤗
Want more videos like this one?
Check out Virginia's group Mentoring for Translators for a weekly dose of mentoring tips!