5 marketing takeaways for translators from BP19 conference in Bologna Italy
May 10, 2019
2020-11-13 11:59
5 marketing takeaways for translators from BP19 conference in Bologna Italy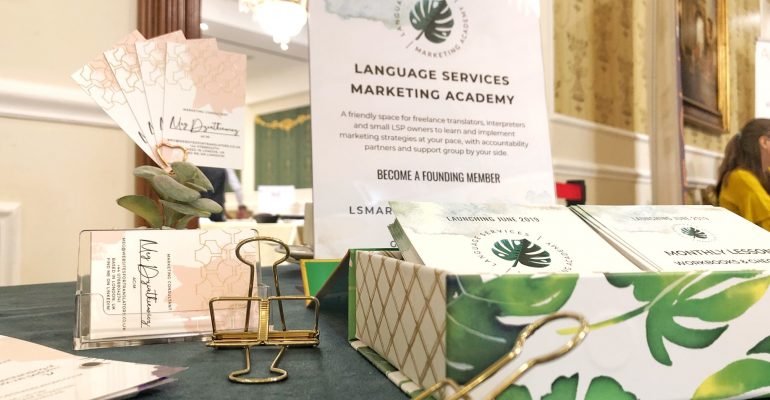 5 marketing takeaways for translators from BP19 conference in Bologna Italy
Last week Websites for Translators was sponsoring #BP19CONF in Bologna, Italy (you can check out my photo news post here).
Because I was spending most of the time at our stand talking websites and marketing, I couldn't attend as many presentations but I managed to attend some and I can share a few key takeaways that I think you will find useful.
Takeaway one:
So it begins! Tess Whitty's talk on finding direct clients first! 😊#BP19conf #xl8 #translationconference #bpconf pic.twitter.com/bo1EIGJ5mU

— Websites for #xl8 (@wwwforxl8) May 2, 2019
Tess Whitty – Know who your ideal clients are and let them know what your brand is about.
I couldn't agree more and this is also the approach we take when creating websites. Some of the key questions in a website brief revolve around your audience and how you want to be perceived – finding out what your new brand is about. But it doesn't only apply to webdesign and branding. Knowing as much as possible about your potential direct clients helps you structure your marketing around them, speak in a way they most identify with and solve their problems. By combining your USP (unique selling point) with ideal client avatar and problem solving attitude, it will be much much easier to attract the right type of client you want. But another important takeaway from this talk is:
Takeaway two:
Tess Whitty – Marketing to direct clients is a continuous process.
There is no real way around it. The effective marketing approach is a continuous, persistent and decisive approach. Some marketing efforts will take months before bringing noticeable results. And that's ok. In fact, long-term marketing strategies usually have more sustainable and stable rates of success than one-off short-term stunts. Integrating marketing as one of the key parts of your business instead of hating marketing will pay off in the long run!
Takeaway three:
Keep your emails short and to the point when communicating with lawyers! They know who you are and what day it is so get to the point #savethemtime #legaltranslator #xl8 #BP19conf pic.twitter.com/osIBdjL7YW

— Websites for #xl8 (@wwwforxl8) May 2, 2019
Paige Dygert – Keep your communications short and to the point – be precise – be concise – be complete.
Paige was talking about lawyers as a target audience, but I have to agree that these apply to almost all kinds of clients. Especially in email communications about fast-paced projects – your clients will appreciate that they can always get a complete and precise answer to their questions and that they don't have to read through a lot of fluff to get there.
Takeaway four:
How to make clients fall in love with you with @AlberoniTrans! #bp19conf pic.twitter.com/Wxn2aO2EMG

— Aurélie Charvet (@actraductions) May 3, 2019
Caroline Alberoni – Be the problem solver not the problem creator.
This really underpins most of the marketing and business efforts for a small business. If you can consistently deliver solutions to your client's problems and not overcomplicate their life but make it easier, they will love you for it. True story!
Takeaway five:
If you want success, there is no elevator to take, you need to take the stairs. #BP19conf pic.twitter.com/LEk0oZcNJp

— Dejan Hribar (@dejan_hribar) May 2, 2019
Herman Boel – If you want success there is no elevator to take, you need to take the stairs. 
That one is kind of self-explanatory but I'm sure you know by now that running your own business, taking care of your marketing and getting results require time, effort, some money and – consistency and persistence. Some efforts will work. Others won't. That's why having a strategy and plan, following it and revising, refreshing and adjusting course while continuously implementing is important for growing business to where you want it to be. 
If you're interested in reading more of the key takeaways and snapshots, here are some accounts you can check out – look for the hashtag #bp19conf !
BP19 was also a first event where I took the coming-soon monthly marketing platform Language Services Marketing Academy to introduce it to the "real world". Eeek! You can join the waitlist for it now and more behind the scenes info will be coming your way soon! 
Meg