We are live! The Language Services Marketing Academy is now open
July 14, 2019
2020-11-13 11:26
We are live! The Language Services Marketing Academy is now open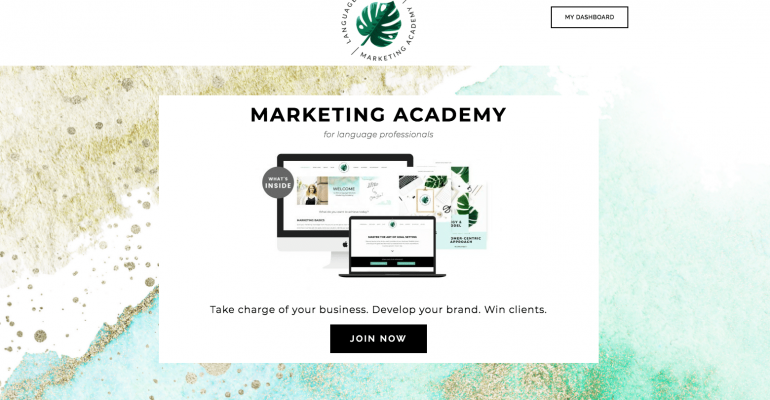 We are live! The Language Services Marketing Academy is now open
The Academy opened the doors last Wednesday on the 10th of July and has members registering ever since, which is amazing! 
This project was over a year in the making and evolved from other ideas and I'm super happy to be able to present it to the world. 🤗
It's something that I've wanted to create for a while now, after realising that there isn't a lot of guidance and structured training for marketing your own business in translation industry. While creating websites for many marvellous translators and interpreters from all around the world, I have answered many questions related to marketing and business support through many emails and Skype calls and I wanted to share the answers with many more people!
I knew this was something I could wrap into a structured training path and provide it to really make a difference for translation business owners. As a result LSM Academy offers guided marketing training for translators and interpreters to help you market your business quicker and more efficiently, pick what you need and go from there or follow a recommended roadmap. The topics will expand every month to cover all aspects of marketing your own business and I've prepared some extras and surprises as well!
You can check it out here: https://lsmarketingacademy.com/
I've also answered a few questions about the membership so far, which might be useful when deciding whether you'd like to join us on this marketing journey. 
Question 1: Why should I join the membership?
Well if you've been wanting to streamline your marketing efforts then the membership is designed to help you do just that, and more! Not only will we show you how to create your marketing strategy, but we'll also provide all the support, accountability and resources you need to succeed.
Question 2: What if it's not for me?
If you join and find the membership isn't for you then you can cancel easily any time. In fact it just takes two clicks! You have complete control. But I do hope you'll stay! 😊What's more, we're giving you 30 days to change your mind. If it's not for you, just let us know in the first month and we'll happily refund your money. So it really is a no risk offer.
Question 3: Is it just for beginner translators?
No! If you're an experienced translator but you feel like you're a bit stuck with your marketing efforts, or you're just embarking on your freelance journey or redesigning your business, then we'll aim to un-stuck you and provide guidance and support so you can get more clients regardless of your years of experience.
Question 4: How often will new training modules be available?
A new, full length course bundle will be uploaded around the same time each month, alongside new quick wins, new toolbox videos, worksheets and extra checklists uploaded in other weeks to keep you busy! There will be bonus bundles uploaded on some months, together with translation industry expert advice, so there's plenty of extra content surprises too!
Will you join us?
We have a special launch-only promo until 24th of July – join us for $18.99 a month (that's over 30% less than regular price!) or choose a yearly subscription and get 2 months free. Click here for more details.
If you have any questions, drop me an email on meg@languageservicesmarketing.com and I'll be happy to advise. 
Happy learning! 😊
Meg