Plan Smarter, Not Harder: 3 Tested Project Management Tools For Your Translation Business
March 20, 2019
2020-11-13 12:12
Plan Smarter, Not Harder: 3 Tested Project Management Tools For Your Translation Business
Plan Smarter, Not Harder: 3 Tested Project Management Tools For Your Translation Business
Even small businesses need a solid business and marketing plan.
You might be getting by with mental goals and to-do lists, but in this buzzing, overconnected world, your brain will thank you for a little leeway. As will your business! Juggling your translation business, accounting, website maintenance and of course marketing will be far breezier with the aid of project management software.
Just by writing things down and using the tools, you're more likely to feel more productive. See, our brains love ordered tasks. Even studies have shown people perform better when they've written down what they need to do. I strongly recommend writing everything down as it increases your chances of getting stuff done.
Project management tools like Asana, Trello and Wunderlist can help you organize all your tasks, plans, projects and people in one neat little sector of your phone/laptop. Don't get me wrong, I love sticky notes, but I feel more in control knowing all my thoughts, plans, and projects live collectively on my mobile.
Why use project management tools?
Neaten up your notes
Easier project planning — Easily plan projects while keeping a full historic record of your actions. You can access them anytime, anywhere, from any device.
Efficient progress tracking — Monitor the progress of your work regarding completion, time and finances.
Better time management — Keep an eye on/register work schedules and set automatic reminders to give you a little nudge throughout the day!
Possible external communication — Converse with your clients and external clients on projects, feedback, edits and progress.
Quick document uploads – you can upload files to some PM tools so you always have them at hand assigned to the right project or list.
Smoother collaboration – If you're working with other translators or proofreaders, you can discuss documents, deadlines and concerns with your team.
But which tool should you use?
That is up to you to decide! So far, I've tried and tested those three free tools. You can choose the best one depending on your workflow and the amount of planning you're going to do!
Trello, Asana, and Wunderlist are popular amongst teams and freelancers for being easy to use and useful. Any of those names ring a bell? No worries if not. Let me provide a little insight into each tool to help you make the decision and see how they can propel your business planning. I'm not affiliated with any of those, but have used all three and hope you'll find them useful too!
Trello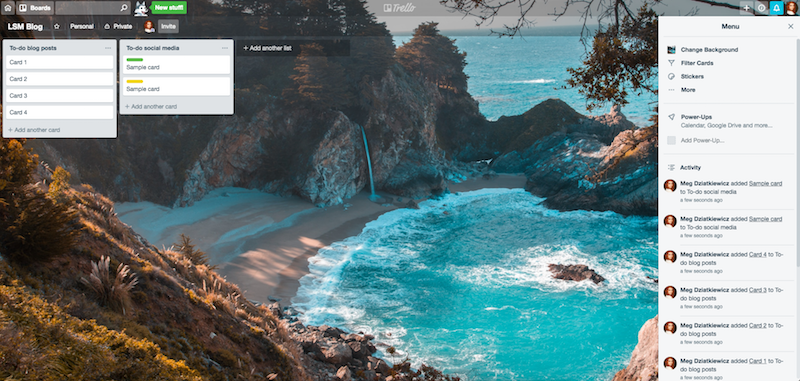 This one's really my favourite. Trello gives you a clean and fuss-free interface with different boards on which you can create cards, lists, tasks, colour code them, categorise them, and even assign deadlines to your tasks and watch the lists to be reminded of them via email or synch with your iCal. It's simple, but sophisticated. It allows you to schedule your marketing tasks for a month in advance and get regular reminders before they're due. I really enjoy the degree of personalisation and the board set up works for me well!
Pros
It's free!

Simple and logical Kanban-style layout — Easy to use

You can use different boards for different projects and separate tasks and sub tasks

Easily add and invite other people to work with you

Assign multiple users to tasks

Integrates with Google docs

Real time updates
Cons
No calendar

No GANTT chart

No spellcheck
Have you used Trello before? What do you think?
Asana
Asana is probably more beneficial for teams rather than individuals, although I do have more complex projects mapped out just for myself. A major plus side here is its left-hand dashboard, which displays a list of all your projects that you can switch between in the same screen. It's free unless you want pro features — recommended for a bigger team seeking more sophisticated options, i.e. Keeping tasks private for select team members. It can take a little while to find your way around but once you start ticking off tasks, you'll get a few unicorn-shaped surprises flying through your screen! Always fun 🙂
Pros
The free version is enough for most businesses, especially freelance!

More structured dashboard and easy to switch between tasks

Possibility of really drilling down your tasks

Create templates to duplicate for your assignments

Alerts you when a task is due (Asana really has a lot of alerts which you can customise!)

Cross-team communication is made simple and you can involve other translators working with you on the project
Cons
Can take a while to adapt, due to its high number of features

You can't control who can add/ delete tasks

Finding things can be a bit difficult

The app is not as convenient as the desktop version, so best viewed from the larger screen
Wunderlist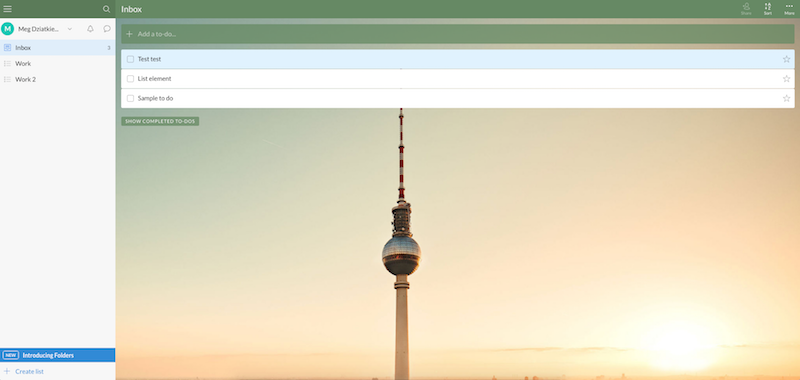 Wunderlist is good for people wanting to keep things simple. It's basically like your paper list, but eco-friendly. Ideal for daily lists, it's great to carry around on your phone and check off tasks as you go. As you do, you'll hear a little sparkling noise — a sort of pat on the back for your hard work! It doesn't have as many features as Trello and Asana, but convenient for general everyday task tracking and can be used for both, professional and personal daily lists.
Pros
Free

User-friendly and simple to operate

Keeps track of your daily tasks

Syncs with phone and desktop

Allows you to share tasks with other Wunderlist users

Categorises tasks using the hashtag symbol (for example #marketing!)
Cons
Doesn't let you change colours or add more labels to categorise things

Subtasks are missing their own separate due dates

No calendar view
Of course, there are many other methods for daily planning, but I wanted to share those that work for me in my daily business life. I would generally use Trello to map out my long term vision and different areas of life and business on different boards. Whenever working with my team on specific projects we use Asana, and Wunderlist is just for daily tasks at the beginning of each day.
There's nothing quite as rewarding as sitting down at the end of a hard-working day and marking off all your tasks. But the art of project management starts with my morning cup of coffee and systematic planning. I started out my business while being totally, uncompromisingly chaotic. That didn't work well. So over the years, I've literally forced myself to use planning tools and create habits which increased my productivity A LOT. Now I don't even think about it, just take it as a part of my day!
Whether alone or with your team, developing and keeping track of your tasks, projects and files makes everything a lot easier. Believe me.
What's your favourite method of planning? Can you recommend a tool that wasn't mentioned here?
We'd love to hear what works for you!